Saturday, December 26, 2009
Buy this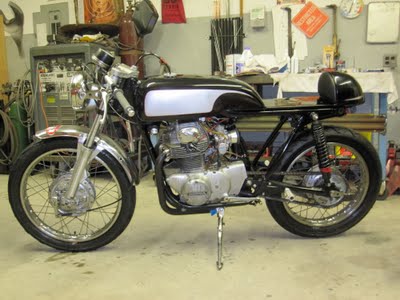 ***SOLD***Honda 350-Real cafe racer. Call for all the details. Lets just say it is the real deal. Clocked over 90 MPH at Pocono Raceway. Dyno tuned. Needs a little detailing. Wanna embarrass your friends with the want-to-be cafe bikes? Then step up and grab this bike. New battery, running and riding bike. $2100. Clean NJ title! Call-908-725-4389. See the video here:
http://www.youtube.com/watch?v=9NjSLbWMP-8
***SOLD***
Thursday, December 17, 2009
For sale Small block chevy 350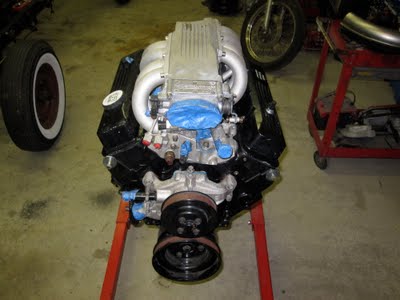 This is out of my chevy project build. I sold the car before I finished it and I kept the engine. It's a fresh rebuild with 0 miles. You can call for details but it's a mild cam and the Tuned Port Injection can be replaced with a standard intake and a carb. $1000 takes the motor without the injection. $1300 with it and the computer and a crate of related parts. I have the receipts for the parts and cam spec card. 908-725-4389.
****SOLD****
Ironhead has been sold. You all missed out on a great bike. And it sold for a good bit less than the customer asked. You shoulda offered! Look for it to be terrorizing the Freehold, NJ area this summer.

Thursday, December 10, 2009
up for grabs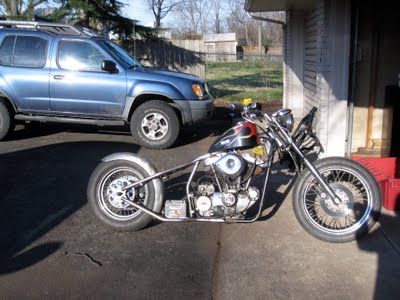 1983 Ironhead. 1000 CC engine. Good strong running engine. S&S super e carb. Raked frame. Just hardtailed with 4" stretch in the rear section. We did the tail here. All tig welded. Has lots of work done already. Battery tray is done. Fender mounts are on. Just need to set the fender where you want it. Rear fender included. No seat but the rear spring mounts are on for it already. No oil tank. King sporty tank already mounted. dual disc 35mm front end with working brakes. Rear caliper, forward controls and master cyl. all included. 2 into 1 exhaust too. Asking $1850. Clean PA
title
. Call. 908-725-4389.
****SOLD*****
We can finish the bike for you. Call to discuss that option.