Sunday, September 20, 2009
Brooklyn Invitational Awesomeness!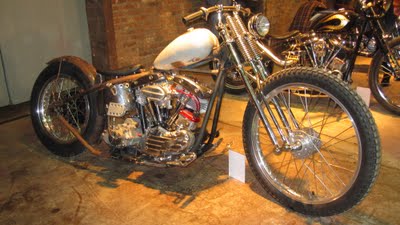 Andy Camay's Shovel. Need screen printing? Call Andy at American Icon in Newburgh, NY.
Went out to Brooklyn for a bit yesterday for the First Annual Brooklyn Invitational Bike Show. I am so blown away by the whole thing. I couldn't stay long but snapped a few pix. This show is a must for any custom bike fan. The vibe was just awesome. About 20 invited builders brought bikes to be put on display art gallery style in a private skate park/warehouse. No admission. No velvet ropes. No big heads. Just good times, great bikes, and some sick skating. In addition to the invited bikes there were at least 100 bikes outside on the street, many of those were show worthy customs by themselves. The weather was great for riding and hanging out and pleasant for those vendors like Dice Magazine, Paul Cox, and a few others who were there making it easier for you to get the latest swag and propaganda. If you were there you know why I was so happy to be able to be there. If you weren't? Well, you missed a killer event.
Pro builders like Paul Cox, Walt Seigel, and Bill Dodge had bikes parked next to amatures (that word is so not fitting here as their bikes were so well done) like Kevin Orraingers black and gold Panhead and Andy Camays Shovel. All the bikes were downright righteous and I would love to have any one of them in my garage.
I didn't get to meet everyone I wanted to. I would have been pretty stoked to meet Max Schaaf. I'm a fan of his style for some time and would love to hear where it comes from. Next time I will give myself more than an hour to take it all in. I am so looking forward to next year's event. I will be sure to clear the schedule, you should do the same.