Wednesday, February 4, 2009
My engine will leak no more, I hope!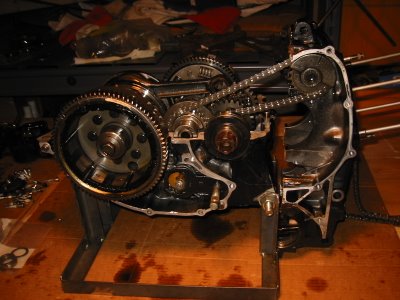 You can always tell when someone was riding behind me. They would be covered in oil. For some reason, both of my 500cc Honda engines have done nothing less than pissed oil out of somewhere. My original had a cracked case. Then the starter went and I wanted to go to kick only. But not before it would dump oil out of a loose side cover bolt.  I replaced the engine with another that had a kicker. That one leaked out of the cam cover. I fixed it. Then it leaked out of the countershaft seal. I've fixed that. Now it leaks out of crack in the case next to the seal. I guess the chain came off and cracked it. I'm done. I went out and tore down the original one. I got a new lower case and started to reassemble it with all new gaskets and seals. In the process I am fitting it with a kicker to get rid of the crappy starter. With any luck you'll all be safe (and dry) behind me this summer.