Tuesday, October 28, 2008
winter's here. This place is small!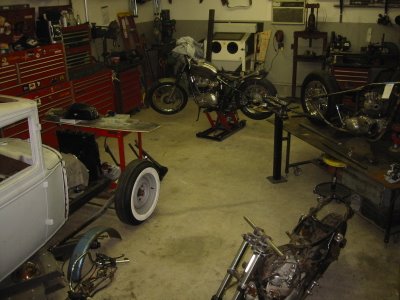 That's right. I'm gonna need a bigger shop. As you can see it's getting a bit tight in there. 1 car, 3 bikes, and 2 frames inside, and 2 cars in the driveway and 1 car in the neighbors garage. None of which are mine!  A new record for this place. I guess thats good, although I'm going crazy with it all. Winter is here (snowed today and real windy) and that will limit my outdoor working for about the next 5 months. Kind of came at me all at once. I spent a few hours tonight cleaning up the place and getting the steel rack back in order. Took this shot while I was at it.